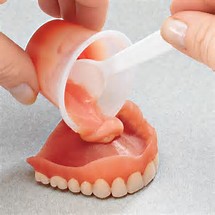 Dura Soft-ProComfort
Regular price $21.95 $17.95 Sale
NEW!!
​​
Dura Soft Pro-Comfort, Denture Reline Kit
Stays Soft and Flexible!
Gentle, Low-Odor Formula!
Non-Irritating!
Takes the Impression of Your Gums for a Custom Fit!
Compatible with Dura-Soft ProLiner.  You can reline overtop
the Dura Soft Pro-Liner Denture Reline to add cushion
to your bite.
​
Softer than Dura Soft-ProLiner!
Lasts around 6-12 month.
Dura Soft-ProComfort is very similar to Dura Soft-ProLiner, but is softer and allows more cushion and comfort.
- With Dura Soft you can eat  what you want, when you want!
- Dura Soft helps seal out food particles!
- Semi-Soft formula
- 1 kit relines 1 denture
- Select drop down box to select quantity
- The more you buy, The more you save!